Supercharge your studies with
Link for MB
Link for MB is a free and customisable Chrome extension for managing your homework. Easily export data from ManageBac to your preferred productivity app and access your coursework and homework all in one place.
Now available for Firefox
Features
What you get with Link for MB
MB + Notion Integration
A seamless integration between MB and Notion.
Customisable
Use the built-in assignment calendar template or configure the extension to work for you
Privacy
Link for MB sends assignment data directly to the 3rd party app, with no data collection or telemetry
Free
Link for MB is 100% free with no subscription or ads
Easy-to-use
Transfer tasks from ManageBac with just two clicks
Lightweight
Link for MB is a light browser extension that sits in the toolbar
Get Started
How to use Link for MB
Step 1: Download
Download the browser extension in your desktop browser.
Step 2: Set up
Open the options page of the add-on, select your preferred 3rd party app, sign in and configure the settings with the relevant information
Step 3: Transfer a task
Open up an MB task and click the Link for MB icon in your browser toolbar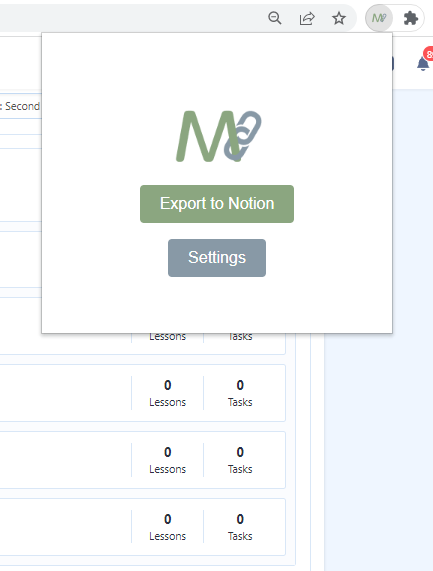 Connections
Supported apps
Productivity apps supported by Link for MB
The default service for Link for MB - benefit from the powerful task tracking, notifications and more from Notion without wasting time transferring tasks.
Add task details and deadlines to Google Calendar with one click.
Add tasks to Google Sheets with one click.
FAQs
Frequently Asked Questions
Which browsers are supported by Link for MB?
Currently, Chrome and Firefox desktop are the only browsers supported.
Does this extension work with all types of tasks in MB?
The extension currently supports the export of assignments, homework and assessments. However, other types of tasks, such as events, are not supported.
Do I need a paid Notion subscription to use this execution?
This extension works with both the free and paid version of Notion. No subscription is needed.
Can I customise how tasks are exported?
Yes, you can customise the export settings to include different task fields, such as due dates and descriptions. You can also choose the format and layout of the exported tasks in Notion. It is not necessary to use the provided Notion template.
How much does the Link for MB extension cost?
The extension is available for free, with no premium features or pricing.
Is the extension secure?
Yes, the extension takes security very seriously. Any API access tokens used by the app are stored only on your device, and API requests are made directly from your browser without passing through any other servers. No information is shared by the add-on with us or any third party besides your chosen task managing application.